Battenkill Conservancy's Member Partnership Plan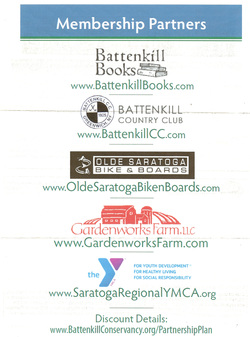 The Battenkill Conservancy ("BkC") has launched a Member Partnership Plan where current members and supporters of the organization will receive a Battenkill Conservancy Membership Discount Card entitling them to special discounts at participating partners. The Membership Partners, made up of area shops, clubs and organizations, will support BkC's mission of watershed preservation and enhancement by offering special discounts to BkC Members. The Membership Partners include Battenkill Books, Gardenworks Farm, Olde Saratoga Bike & Boards, Battenkill Country Club and the Saratoga Regional YMCA, Battenkill Branch. Discounts range from 10% off of goods and services to free guest passes for the YMCA.
The Member Partnership Plan was conceived by BkC's Board as a way to thank its members for their ongoing support of the all-volunteer, grass roots organization. The partners were chosen for their commitment to BkC's mission of watershed preservation and enhancement through education, advocacy, conservation and the River Watch Program. An example includes the Battenkill Country Club, a nine hole golf course with over 700 feet of frontage on the Battenkill that was recently certified as an Audubon Cooperative Sanctuary. Certification is a voluntary three year process that entails a commitment to water quality conservation, chemical use reduction and wildlife management. The Battenkill Country Club is made up of 75 acres, 40 of which are designated Federal & State Wetlands.
Other partners such as Connie Brooks of Battenkill Books focuses on educating the public and promoting the Battenkill Valley area, its history and the river through the books she carries as well as special events highlighting local writers, places and events. As proprietor of the Olde Saratoga Bike & Boards shop in Schuylerville, Jeff Cook is always willing to offer expert advice and top quality equipment for those who want to enjoy the Battenkill watershed on a bike.
Meg Southerland of Gardenworks Farm in Salem knows the value of preserving the simple beauty of the watershed and its surrounding countryside by offering a bounty of dried flowers, in season fruits, berries and vegetables and their more recent endeavor, the coveted Farm to Table Dinners. Finally, the Saratoga Regional YMCA has proven to be a popular asset to the community since establishing its Battenkill Branch and refurbishing the main street building owned by the Village of Greenwich. This spring the YMCA will conduct lifeguard certification training for the town's Summer Swim Program that takes place on the banks of the Battenkill in Greenwich. The Membership Partners have all participated in and supported the annual Battenkill Runs Through It Beach & Music Festival, which takes places annually at the Greenwich Town Beach.
The Membership Discount Card is offered to all BkC members and supporters and new and renewing members. BKC also expects to expand the program by adding to the list of participating Membership Partners going forward. For details of discounts, please see
Membership Discount Partners page
.
---
Battenkill Conservancy - Preserving & Enhancing the Battenkill Watershed