Battenkill InspiredJanuary 30 to June 30, 2015

The Folklife Center

Crandall Library

251 Glen Street,

Glens Falls, New York 12801

The Folklife Center at Crandall Public Library mounted Battenkill Inspired, a exhibition that was on from view January to June 30, 2015 in the Folklife Gallery.

Inspired By The Battenkill

EAGLE WATCH
By Devin Bulger
3.9.14


"Gasping at glimpses of gentle true spirit he runs Wishing he could fly"

- Stephen Stills


Take a left on Black Creek Road.
Follow along its skinny shoulders -
Down ravines and up again and right on Cemetery 'til you see the elbow in the road Where it bends at White Creek.

There in the tree, in the sky, in the heavens The great birds perch surveying the land, The water.

Talk about freedom! Talk about liberty! The open skies your home.
The endless earth your dinner plate.
No known enemy to ruffle your feathers, No captor to shackle your taloned feet.

You take your leave with a spread of the wings – Off to range the ridged rolling country,
To scan those gorgeous flowing waters,
To take a taste of a brother or a sister,

To snack upon the flesh of a dead deer. Carrion or family –
It matters not to thee.
THE EAGLE DOES WHAT IT WANTS TO It needs not order from Bob's menu.



Take a left at the blinking light.
One mile down you'll see a tree
And in that tree you'll see a nest
And the nest will be the size of a Mini-Cooper. If you're lucky like we were,

The birds that built the nest Twig by branch by blade of grass


Will hover nearby stalking their prey And those God-blessed birds
Will take your breath away.

Talk about freedom! Talk about liberty! Copulating in mid-air!
No science will bear us the sweetness, No laws will free us from shame.

Noble bird, stunning creature,
Viewed through a scope to make
You closer, to fully appreciate
The sharp curve of your bold yellow beak, The sharp stare of your telescope eyes – all drab trappings of youth molted

leaving only the brilliant white feathers of your brave, bald head.

Fledgling creature now mature, Now I know my country's bust, Now I call my nation's coin And see it land on tails

Or stuck to the side
Of a man-child's helmet
Or stamped in leather
And sewn to shorts as
Short as the memories
Of commercial breaks
Or at the filial of the flagpole, Or astride the Great Seal.

- E Pluribus Unum -

But those are human ideas
And the quiver and the olive
Branch are human means to human ends To be justified in a court of law whose Marble you'll no-doubt be chiseled into, But only a symbol, a suggestion of the Majesty.


You take your leave with a spread of the wings. Off to range the ridged rolling country,
To scan the gorgeous flowing water,
To cry the freedom we wish to ring,

To live the liberty we profess to love.

---

Battenkill Sky
By Nathan Barber
4/10/2015

There is no season, nor time nor reason
To tell you about a place I go
Where this beautiful water flows
I get the shivers when I talk about this river
Not cause its cold and wet
But its a place you can never forget
A little drive to a spot over the hill
Some back roads up to this amazing thrill
Boats in the water, poles in hand
I feel so grateful to live on her land
Most don't know where to start or where to end
But it dosent matter when your with your friends
There is nothing more relaxing hearing the
Water rush by or looking up in the beautiful sky
Mother nature I give her so much thanks
For creating the great river banks
Not only is this river a place I got married
There are many treasures to be unburied
I am glad I can share my story and fun
Hope someday we all take a SAW River Run!

---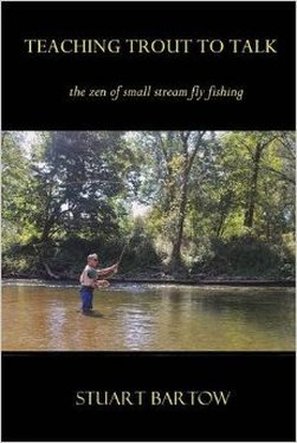 Teaching Trout to Talk
The Zen of Small Stream Fly Fishing
By Stuart Bartow

Upcoming Readings and book signings by Stuart Bartow

Monday, June 1st, 7 pm
Crandall Public Library
Glens Falls, NY

Wednesday, June 10th, 7 pm
Salem Community Courthouse
Salem, NY

Date To Be Announced
The Hyde Collection
Glens Falls, NY

May 30th
The Battenkill Runs Through It
Town Beach
Greenwich, NY


"Are these places real, or mere dream? Are they illusions, tricks of the mind, fata morgana, that the angler imagines might exist? These green pools, where the brook trout are even greener, that can be glimpsed just around the bend? The small stream fly angler is the fool who is ever in search of the perfect pool that no one knows about, hidden away in a brook everyone else ignores. Still, sometimes, the angler is lucky and stumbles upon that place that is ever-changing, elusive." -

Stuart Bartow is a widely published poet, an avid fly fisherman, a long time member of the Clearwater Chapter of Trout Unlimited, a Professor of English at SUNY Adirondack, and Chair of the Battenkill Conservancy.
---