About Battenkill Conservancy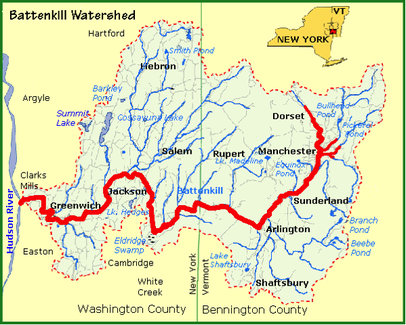 (Click to enlarge)
Battenkill Conservancy works to promote clean water and open space by preserving & enhancing the Battenkill watershed & beyond through conservation, education, advocacy & the River Watch Water Quality Program.
Battenkill Conservancy is a private, not-for-profit 501 c(3) organization incorporated in 1993 under the laws of the State of New York by a group of Washington County residents whose reach includes over 1,000 local, regional, national and international members and friends.
Battenkill Conservancy ("BkC") works with a variety of local, regional and national organizations including such groups as The
Land Trust Alliance
,
Hudson Basin River Watch
and the
Adirondack Mountain Club
, to safeguard the Battenkill watershed in both Vermont and New York. In combining our efforts, we collectively act to preserve and enhance this important resource.
---
For the past five years, BkC has been honored to be selected to receive Conservation Partnership Program awards from the the New York State Environmental Protections Fund's DEC and administered by the Land Trust Alliance. These awards have ensured we continue to execute our mission and carry out key activities including our River Watch Program, the Outdoor Adventure Trip, hire our first part time Executive Director and begin to implement the Battenkill Corridor Connection. Our two transaction grants have allowed us to add to our permanently protected preserves - Schmidt Meadow Preserve and the Rexleigh Marble Mill.

Our goals include conserving land within the watershed to ensure clean water for all, supporting sustainable fishery, biodiversity, outdoor education and multi-use recreation by protecting and restoring aquatic and terrestrial habitats while ensuring the public access to one of the areas most important environmental, recreational, historic, cultural and economic assets of the region.

Our most recent multi-year planning process which identified two key objectives:

Continued protection for land along the river corridor and its tributaries, including restoration of degraded aquatic and riparian habitats.
Increase watershed and habitat awareness among the user groups so that we proactively safeguard the river and its tributaries from harmful practices.

By working with the various groups, schools, colleges, local governments and the general public, BkC hopes to build environmental literacy and instill an appreciation for the watershed that includes respect for the ecosystem, shared responsibility for its well-being, and the experience of a special sense of place.

_

A pair of Eastern Tiger Swallowtail butterfly (

Papilo glaucus

) rest on the shore of Carter's Pond a designated Critical Bird Conservation preserve and wetland. To learn more about this ailing critical habitat click

here

.
Battenkill Conservancy - Preserving & Enhancing the Battenkill Watershed