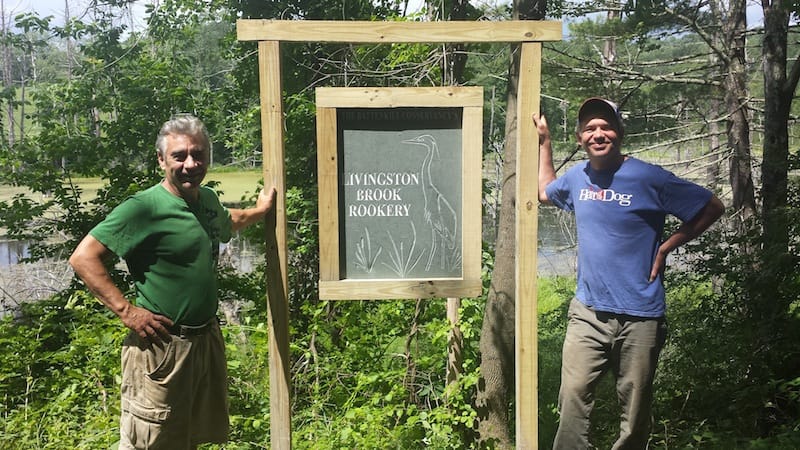 Thanks to Board Members Stuart Bartow, Dan Albano & Dan Bleir, the Livingston Brook Rookery sign was installed at the preserve.
Land Conservation
Battenkill Conservancy ("BkC") is a 501c(3) land trust and therefore has the legal ability to accept donations of land and to hold conservation easements. These activities promote and maintain the watershed's rural character and natural habitat. Land conservancy activities include:

Working with property owners to explain the ecology, estate-planning and tax benefits of conservation easements and other land protection tools.
Maintaining and monitoring acquired lands.
Working with state agencies to acquire additional important watershed lands.

Our first project was to work with the Open Space Institute to purchase and protect a 4.3 acre flood plain parcel where a double-wide mobile home had been illegally located at the scenic rest stop along the state divide between New York and Vermont. The property is now permanently preserved by the state of New York and is known as the popular State Line Route 313 Rest Area. In 2015, BkC worked with the State DOT to place much needed portable sanitation facilities at the site. In the future it hopes to expand this project and create a permanent facility and visitors center.

BkC promoted the Battenkill Corridor as important high quality riverine habitat worthy of state protection in NY Open Space Region 5. We coordinated the purchase of the 525 acre Bentley farm, safeguarding 2400 feet of shoreline along a "Trophy Section" of the river and a portion of Eldridge Swamp that are now part of the Battenkill State Forest. We continue to work in conjunction with the

State of NY

to protect additional properties.

In 2003, Battenkill Conservancy received a gift of a 16.8 acre wetlands known as the Livingston Brook Heron Rookery. A site with 15 nests produced 4 nesting pairs of herons the first summer. In the spring of 2005 only 1 pair of herons returned after a pair of ospreys took up residence in one of the nests but have since returned. Ravens, pileated woodpeckers, numerous redwing blackbirds, tree swallows, evening grosbeaks, american goldfinches and other songbirds have been sighted at the rookery. We encourage you to go visit the rookery which is located along

MacDougall Lake Road

off State Route 29 in Greenwich for quiet observation of the wildlife. It was recently chosen to be featured as one of NY State's Watchable Wildlife locations.

More recently we have added two iconic parcels to our portfolio - the 11 acre Schmidt Meadow Preserve and the 3 acre Rexleigh Marble Mill.

_

Jack in the Pulpit (

Arisaema triphyllum

) A photo taken on Peaked Rock Mountain Battenkill State Forest. To learn more about this herbaceous plant click

here

.

_

A hay field in the Battenkill watershed is cut after nesting birds have fledged. To learn more about grassland birds and how to protect their habitat click

here

.
Public Policy
BkC discusses and addresses issues which affect the Battenkill watershed.
Public Policy activities include:
encouraging responsible land-use planning throughout the watershed
supporting reduction of point and non-point pollution
protecting the River from adverse affects
promoting rural character
supporting local agriculture
working cooperatively with the surrounding watershed town governments and boards.
After a regional survey of residents in the late 1990's revealed 90% of the populace believed preserving the rural character of the Battenkill watershed was a top priority, BkC held a conference on "Preserving a Place of the Heart: Managing Change in the Battenkill Watershed." Noted landscape architect, Harry Dodson addressed the wisdom of cluster development and smart growth.
BkC has a long history of working with municipalities, state agencies and other non-profit organizations to preserve and enhance the quality of the watershed and to guide growth and development along the river and within the watershed. BkC member's plant trees and do river and highway cleanups with the Clearwater and Adirondack Chapters of Trout Unlimited. We have assisted several towns during the comprehensive planning process to promote suitable retiral developments in line with the rural character of the area. We have been advocates for historic preservation of bridges and buildings.
Battenkill Conservancy - Preserving & Enhancing the Battenkill Watershed