Community Paddle & Roadside Clean Ups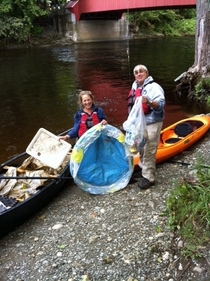 The Battenkill Conservancy hosts community paddles and river & roadside cleanups during the spring, summer and fall and invites all volunteers to participate in our "Give Back by Taking Out" River and Highway Clean Ups. We do an end of the season fall river clean up in September. Our roadside cleanup schedule will be posted shortly but those always start at 9:00 am at the State Route 313 State Line Rest Area in conjunction with our partners, Trout Unlimited. The community paddles and in river clean ups take place at multiple locations along the the river depending on need and volunteeri interest. We just scheduled a "Give Back by Taking Out" river clean up for Saturday, September 26, 2020 beginning at 10:00 AM. Get together a team to work with and contact us with a location you want to clean up. Addiitional details posted on events page and Facebook. Email bkc@battenkillconservancy.org with questions.


Our April Fly Fishing Tips and Clean Ups offer simple fly fishing tips to participants from Board Members and avid fly fishers who serve on our board. Pre-registration at bkc@battenkillconservancy.org is requested. Some basic equipment will be provided but participants with equipment are requested to bring it.

For our Roadside River Clean Ups we team up with the Trout Unlimited Clearwater Chapter. Highway clean ups begin at the State Line Rest Area on Route 313 just north of the Village of Cambridge. The clean ups begin at approximately 9:00 am with donuts and coffee provided. Safety vests and garbage bags are provided for volunteers to pick up garbage along a scenic stretch of Route 313. The clean up usually lasts just over an hour.


---
Battenkill Conservancy - Preserving & Enhancing the Battenkill Watershed