BkC's Eagle Watch Hits Big with Enthusiasts!
Battenkill Conservancy's annual eagle watch outing led by Ron Renoni attracted nearly 50 eagle enthusiasts from both near (Salem) and far (Clifton Park/Cohoes). The caravan of cars reached the first stop where two eagles allowed plenty of time for the participants to view, photograph and admire them before flying off to fish in the tributaries of the Battenkill. At the next stop on Ron's well planned route, the group was fortunate enough to view a mating pair in the vicinity of their nest. The hope is that eggs will appear in the nest over the next few weeks.

Since BkC and Ron Renoni began the outings, the eagle population has grown to over 500 nesting sites in NY state. The more frequent sightings especially along the Battenkill & Hudson watersheds demonstrate the positive effect of the cleaner rivers and tributaries which provide the eagles food source. Interest in eagles and birds of prey has also grown as evidenced by popular events like the upcoming Winter Raptorfest that takes place at the IBA Grasslands in Ft Edward on March 29 & 30.

The objective of Battenkill Conservancy's "It's Your Battenkill, Explore It" series is to highlight the watershed's scenic assets and natural beauty. The series, presented free of charge to the public, is the supported by the Create Joy campaign and member contributions. BkC board member Lorraine Ballard pointed out that "one girl who grew up here had never been on the road where we were viewing the eagles. It makes you realize how a simple outing reminds people that it's their river and to get out and explore it."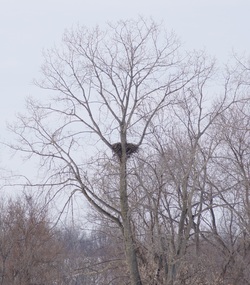 Our eagle watch always attracts professional as well as amateur photographers hoping to capture that stunning shot. Dave Koschnick of Watch Dogs Arts in Cohoes offered his shots in the above slide show. Dan Vitro, a budding wildlife photographer captured the nest of the mating pair.
---
Battenkill Conservancy - Preserving & Enhancing the Battenkill Watershed