Membership Partners
Our membership partners include area shops, clubs, and organizations that support our mission of watershed preservation and enhancement by offering exclusive discounts to our members.


BATTENKILL BOOKS

Discount: 10% Discount on full priced items
Battenkill Books is a local, independent bookstore selling general interest, new books in the Battenkill Valley. Offering a broad range of books from current bestsellers to the classics, with a large selection of books on local history and the surrounding area, Battenkill Books also carries maps, gifts, cards, and an eclectic selection of magazines. The owner, Connie Brooks, has been a supporter of our BRTI Festival for the past two years and now joins us as a Battenkill Conservancy Partner offering our Members a 10% discount on purchases of full priced items at her Main Street store in Cambridge, New York.
Contact Person
: Connie Brooks, Owner
15 East Main St. Cambridge, NY 12816
518-677-2545

www.battenkillbooks.com
BATTENKILL COUNTRY CLUB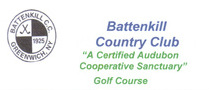 Discount: 10% Discount on all full priced goods and services
The Battenkill Country Club is a 9-hole golf course along the banks of the Battenkill River in Greenwich, N.Y. Conveniently located between Saratoga Springs and the Village of Greenwich, it offers one of the area's best 9 hole courses, professional lessons, youth clinics and tournament hosting. BCC boasts over 700 feet of prime river frontage and has recently become a Certified Audubon Cooperative Sanctuary for Golf Courses with over 40 acres of wetlands, a chemical use reduction, water conservation and a stream protection program. Both the BCC board and its golf pro, Bill Wigand have supported the Battenkill Conservancy's mission by participating in the BRTI's Bidding Board and hosting Battenkill Conservancy's Annual Meeting this past October and now offering all Battenkill Conservancy's Members a 10% discount on BCC's full priced goods and services, including green fees
Contact Person
: Bill Wigand, III, Director of Golf
Route NYS 29 Greenwich, NY 12834
518-692-9179
www.battenkillcc.com
GARDENWORKS FARM

Discount: 10% off on all non-food items
Gardenworks Farm is a 3rd generation family farm that has transitioned over the years and is beginning its 21st season with more than 12 acres of crops, a greenhouse full of annuals & perennials and a dairy barn hosting a market place offering local cheeses, meats, organic vegetables & baked goods from the farm kitchen. Local handcrafts, artwork in the barn gallery and a drying barn with hundreds of farm grown flowers add diversity. Gardenworks is a country destination where agriculture meets the arts while sharing the pleasure of good food, the joy of beautiful surroundings and the importance of conserving farmland. Gardenworks understands the importance of preserving the watersheds and has teamed up with the Battenkill Conservancy to offer our members a 10% discount on all non-food items.
Contact Person
: Meg Southerland, Owner
1055 Route 30 Salem, NY 12865
518-854-3250
www.gardenworksfarm.com
SARATOGA REGIONAL YMCA

Discount: One Day Guest Pass
The Saratoga Regional YMCA has been a part of the Saratoga community for the past 140 years and a part of the Washington County community since opening its Battenkill Branch in 2010. Its focus is on physical fitness and youth, teen and childcare programs while responding to the needs and demands of the community and working with its residents. The YMCA has demonstrated its support of the Battenkill Conservancy by working with us to raise funds through the raffle of a one year YMCA Membership. We hope to offer this once again at the 2014 BRTI Festival. In addition the YMCA is offering all Battenkill Conservancy's Members a one day guest pass to visit their facilities and be offered a personalized tour and/or complimentary fitness class.
Contact Person
: Bill Blake, Battenkill Branch Manager
184 Main Street Greenwich, NY 12834
518-587-3110

www.saratogaregionalymca.org/battenkillbranch
Battenkill Conservancy - Preserving & Enhancing the Battenkill Watershed