Battenkill Conservancy & Trout Unlimited "Team Up to Clean Up"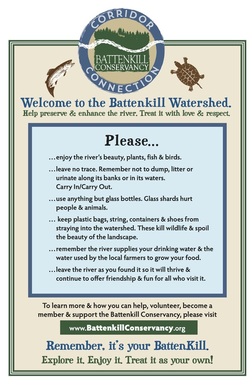 This Saturday, June 27, the Battenkill Conservancy (BKC) and Trout Unlimited (TU) will once again
"Team Up to Clean Up"
the roadway area adjacent to the State Line Route 313 Rest Area that hugs the river just north of the Village of Cambridge, New York.
The two not for profit conservation and watershed organizations have been teaming up since BkC (in conjunction with the Open Space Institute) worked to create the public access and rest area nearly ten years ago. The state owned rest area has become a popular and widely used access spot for canoes, kayaks and tubers and is a key launching area for the outfitters in both Vermont and New York. Trout Unlimited was instrumental in executing a riverbank project that improved trout habitat and fishing access. The joint
"Team Up to Clean Ups"
take place four times per year and ensures this pristine stretch of highway and river access is maintained litter free.
As part of the Battenkill Corridor Connections Project, BkC has created a public education poster of "river tips" that promote responsible use of the watershed and the river. The river tips poster will be shared with various community groups and organizations within the watershed to help educate and remind the public of good watershed stewardship. In conjunction with the project, the Battenkill Conservancy recently installed portable sanitary facilities for visitors at the rest area. The hope is that the portable facility will demonstrate the need for a permanent, visually pleasing and ADA accessible visitor center and sanitary facilities at the site.
Saturday's
"Team Up to Clean Up"
event begins at approximately 9:00 am at the State Line Route 313 Rest Area with donuts, coffee, safety vests and garbage bags provided to volunteers. The clean up usually lasts just over an hour and is followed by an informal barbeque offered by Trout Unlimited. Groups are encouraged to join and learn more about the two organizations' efforts to preserve & enhance the watershed and promote cold water fisheries. For more information email
bkc@battenkillconservancy.org
---