Native Plant Sale - Saturday May 4th, 2013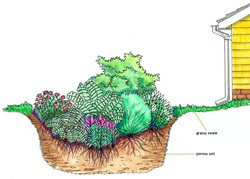 The Battenkill Conservancy and The Saratoga Regional YMCA, Battenkill Branch will host a native plant sale on Saturday, May 4, 2013 in the YMCA parking lot at 184 Main Street. Emily & Chris DeBolt of Fiddlecreek Nursery located in Hartford, New York will offer a selection of their New York native plants and shrubs for sale and will be on hand to answer questions. The Battenkill Conservancy will offer additional information on how creating rain gardens and stream buffers using native plants can be used to reduce run off, protect stream corridors and improve water quality.

Fiddlecreek Nursery will be offering a wide variety of native plants and small shrubs suitable for rain gardens and absorbing water due to excessive storm runoff. The Battenkill Conservancy has been promoting the use of native plants as stream buffers along the Battenkill and area roadways to help reduce the impact of large amounts of road salts that drain directly into area feeder streams and waterways. Properly designed and landscaped feeder ponds often include attractive rain gardens installed by the community as part of a municipality's storm water management plan. The Battenkill Conservancy is hoping to establish an educational community rain garden to demonstrate the benefits of these types of projects and improve water quality one garden at a time.

The native plant sale and rain garden information session will take place from 10 am to 1pm at 184 Main Street in Greenwich, NY.
---
Battenkill Conservancy - Preserving & Enhancing the Battenkill Watershed