_____________

OAT thanks Stewarts Shops Holiday Match & the Leo Cox Beach Foundation for their support of the 2015 Program.


_____________

Please go to our Membership Page & learn how to support BkC & become a Member


---

---

Outdoor Adventure Trip Program
Delivers Another Great Year of Fun on the River!

OAT Participants Show their Energy for the Battenkill - Photo by Clifford Oliver

Battenkill Conservancy's Outdoor Adventure Trip (OAT) for Youth returned to offer another great outdoor educational experience for youth aged 11 through 15 in August.Randy Jennings, BSA Crew 17 Advisor and NOLS trained, returned to lead a small group of middle school/high school students in a series of water focused, outdoor activities in the Battenkill watershed with the Battenkill Valley Outdoors Log House, in Cambridge, NY serving as home base.

Guest instructors in canoeing & water safety, fly fishing and outdoor photography were broug in to share their expertise and expand the existing program of river ecology, outdoor cooking skills and orienteering/night sky identification. Last year participants ranged from 11–15 years of age and came from both local area towns as well as from the Capital region.

Activities included on-site camping; outdoor skills including cooking, orienteering and fire-making; photography lessons; night sky identification; water safety & canoe skills, plant and tree identification, botany science; evening bonfire, river expedition in canoes; water sampling; evening crafts; and fly fishing on the river.

All the participants were guaranteed fun while making friends, mastering important skills, learning unforgettable ecology and environmental science lessons. The program was limited to a maximum of 14 students in good physical health and with swimming ability. With the support of Stewarts Shops Holiday Match, BkC allows families to pay according to their financial capabilities after paying the $250 base fee. The sliding scale program recognizes the true cost to run the program averages $500 per participant yet BkC allows families to contribute beyond the base fee according to their family's personal financial resources.

Interested candidates for the 2016 program should email

bkc@battenkillconservancy.org

to reserve a place as the number of program participants are limited.

Some of the comments we received from last & year's participants and their families reflecting the great time they all had:

---

"My son, Daniel had a blast at the Camp this week - thanks for showing him a great time!"
- Kelly

| | | |
| --- | --- | --- |
| "Thank you for the wonderful outdoor experience you've given our daughter Emma. Since returning, she has not stopped telling us about all the different activities she did and all the great things she has learned about along with the great group of people she met! She cannot wait to do this again next year, and our son David patiently awaits his turn to start going. Please let us know what other activities you may be running, we'd love to have Emma be a part of it!" - David and Louisa | "My two kids did the camp a few years ago and LOVED it then too! Every time we are on the river the kids point out memories of waterholes or other fun they had at the camp." - Wendy | |

Battenkill Conservancy's OAT Participants
Rush for the River!

Battenkill Conservancy's Outdoor Adventure Trip proved more popular than ever this week when 15 enthusiastic youths came together to spend four days learning about the watershed environment. Randy Jennings, on site Director, with the assistance of additional counselors and guest teachers offered the group river outings, evening astronomy lessons, water science, a hike up Peaked Rock, as well an unofficial "ropes" course that landed everyone in the river.

The program utilized Battenkill Valley Outdoors in Cambridge as its home base and thanks to local volunteer talent introduced the kids to special skills including fly fishing, bird and plant identification, orienteering, and canoe safety skills. BkC Board Member, Dan Albano demonstrated the basics of water quality testing as part of BkC's River Watch Discovery Program. Cliff Oliver who gave an introductory photography class on the first day captured the group's enthusiasm for the river.

The OAT Program is offered annually for area youths between 11 -15 years old interested in river ecology and the outdoors. Registration fees are kept intentionally low to promote attendance by any interested student. BkC also donated two full scholarships to the Greenwich Youth Center enabling two local youth to attend for free. This year's program had a waiting list of 10 students, prompting many to ask about signing up for next year now.
Outdoor Adventure Trip 2014 Donates Two Scholarships to GYC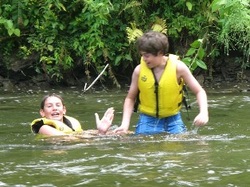 For the 2014 summer, BkC donated two full scholarships to the
Greenwich Youth Center
to provide the opportunity for local youth to participate, be exposed to the natural environment in their area and learn valuable environmental lessons.
OAT is Battenkill Conservancy's youth oriented program that aims to provide an fun, affordable, hands on, water focused outdoor educational experience. By exposing youth and their families to the watershed's recreational and environmental opportunities BkC hopes they will become actively engaged in stewardship of the river. Last year OAT was made possible in part by a grant from the The Land Trust Alliance's Conservation Partnership Program and Stewart's Holiday Match Program.
---
Email us at bkc@battenkillconservancy.org to reserve a space in the 2016 OAT Program.

Battenkill Conservancy - Preserving & Enhancing the Battenkill Watershed