LEAVING A CLEANER HIGHWAY FOR EARTH DAY & FLY FISHING 101
This past Saturday Battenkill Conservancy & Trout Unlimited joined forces to clean up a stretch of State Route 313 that runs along the Battenkill. The clean up was followed by offering fly fishing tips to interested participants. Twenty plus volunteers came out to collect over 100 pounds of roadside trash including bottles, hubcaps and plastic fast food containers that eventually break down into small particles, end up in the water supply and have deadly effects on a variety of wildlife and fish populations.

The chilly morning proved perfect for walking a scenic stretch of the roadway and practicing fly fishing casts. BkC & TU volunteers conduct the cleanups four times per year and have just added the fly fishing tips to the event this year. The next clean up is scheduled for June 19 at the same location and time - State Line Route 313 Rest Area at 9:00 am.


---
EARTH DAY HIGHWAY CLEAN UP & FLY FISHING
SATURDAY, APRIL 19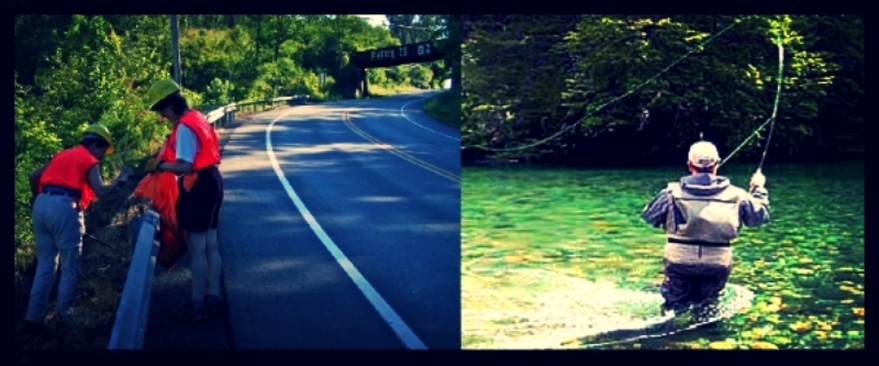 In conjunction with the Clearwater Chapter of Trout Unlimited and in celebration of Earth Day, we will conduct the first of our four annual highway cleanups. This year we will be offering participants simple fishing tips after the one hour clean up. Volunteers will be able to ask BkC & TU members advice on fly fishing, tying and public access locations as well as make some casts right at the Rest Area which borders a prime section of the Battenkill.
The first highway clean up is part of our
"It's Your Battenkill, Explore It"
campaign, which aims to promote the community's awareness and use of this prime natural resource that runs from Manchester, Vermont through the towns and villages of Washington County before emptying into the Hudson River just above Schuylerville, NY.
Volunteers interested in participating are welcome to meet at the State Line Route 313 Rest Area, grab a safety vest and help ensure Battenkill Conservancy's adopted stretch of this beautiful highway is in prime visual condition for the spring season. Pre-registration by emailing
battenkillconservancy@gmail.com
is requested for those interested in the post clean up fishing activities.
---
Battenkill Conservancy - Preserving & Enhancing the Battenkill Watershed