"Give Back by Taking Out" - River and Highway Clean Ups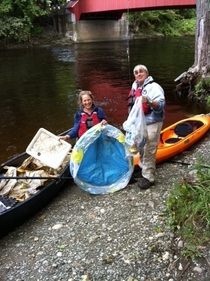 The Battenkill Conservancy invites all volunteers to participate in the "Give Back by Taking Out" River and Highway Clean Ups that are taking place on the Saturday September 21st and Saturday September 28th.

This coming Saturday, September 21st, the Battenkill Conservancy teams up with the Trout Unlimited Clearwater Chapter to host the third highway clean up of the season at the State Line Rest Area on Route 313 just north of the Village of Cambridge. The clean up begins at approximately 9:00 am with donuts and coffee provided. Safety vests and garbage bags will be provided for volunteers to pick up garbage along a scenic stretch of Route 313. The clean up usually lasts just over an hour and is followed by an informal barbeque offered by Trout Unlimited. Those interested in pre-registering for the river clean up should call and leave a message at BVO at 677-3311.

On Saturday September 28th, all volunteers can meet at Battenkill Valley Outdoors off State Route 313 in Cambridge, NY at 9:30 am to register for canoes and related equipment which will be provided free of charge. Volunteers will be shuttled to a section of the river and provided with garbage bags for collection of trash in and along the banks of the river. Sturdy shoes are recommended. The Clean Up is expected to last approximately three hours and participants are invited to pack a lunch to enjoy either along the banks of Battenkill or upon completion at Battenkill Valley Outdoors. Pre-registration is not mandatory but would be helpful to ensure sufficient canoes are made available.


---
Battenkill Conservancy - Preserving & Enhancing the Battenkill Watershed