Art on the Battenkill
An Afternoon of Art at the Georgi Museum, Saturday August 17th, 3 pm - 7pm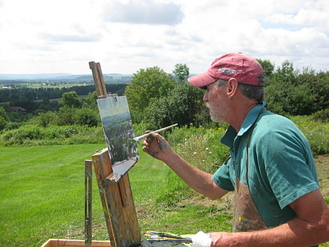 George Van Hook Painting the Watershed
On Saturday, August 17 from 3pm to 7pm, the Georgi Museum and the Battenkill Conservancy 
will team up to to offer the community a special afternoon highlighting the art and
environment of the Battenkill. The event offers the public the opportunity to view the recently opened Sushan Notables exhibit in the Battenkill room and to also take advantage of the museums bucolic grounds located on a prime stretch of the Battenkill.


The Battenkill Conservancy will be on hand with environmental information on the river including rain gardens and native plantings but will also use the event to highlight the importance of the Battenkill as a cultural and artistic resource. 
Artists who have featured the Battenkill in their work will be showing some of their key pieces and be on hand to discuss why the protection of The Battenkill and public treasures like The Georgi Museum are important to their work.

Artists slated to be on hand include Battenkill Conservancy Board Member and internationally recognized visual artist and painter, Stephen Lack who has maintained a studio in Washington County since the 1980s's and was recently featured in the Open Studios of Washington County Tour. Other well known artistic talents participating in the event include painters George Van Hook and Anita Witten and photographers Clifford Oliver, Richie Bittner and Herbert Eriksson. Eriksson whose photographs capture some classic Battenkill fishing images taken in the 1950s will be on hand to relay his personal stories of fishing the Batten kill. Alan K. Hutchinson who uses water from the Battenkill to create his unique watercolors will be on hand to share his unique techniques and ensure a more interactive experience for those attending including children who are definitely welcome and encouraged to come. Special guest artist, Carlos Baret of the Dominican Republic will showcase Waterproof Skin 2th, his second international exhibit.

Specifically geared to kids, Board elect member, Dan Albano of Argyle will be on hand to share the recently launched "River Watch Discovery Kit for Kids" that BkC developed to educate and engage kids in stewardship of the river. The booklet funded in part through a Land Trust Alliance Conservation Partnership grant aims to build awareness of BkC's long standing River Watch Program that provides bi-annual testing of specific sites. The results help to monitor and advocate for the long term health of the river .

The event is free, no pre-registration is required and anyone interested in learning more about the river and cooling off in its cool, clean waters is encouraged to attend.


---
Battenkill Conservancy - Preserving & Enhancing the Battenkill Watershed